I am SARAH.
Indeed, a PROPER INTRODUCTION.
I'm a 20-something lass from the Pearl of the Orient. I dig into almost anything and everything related to Japan.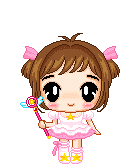 I'm a fan of several Japanese groups and solo artists. My main fandom is Arashi, then Hey! Say! JUMP, then Johnnys Jr. I also like WaT, NYC, KiS-MY-FT2, NewS, KAT-TUN, Sexy Zone, Tackey & Tsubasa, Kanjani8, Johnnys WEST, A.B.C-Z, V6, Kinki Kids, SMAP, D☆DATE, SPYAIR, ONE OK ROCK, SEKAI NO OWARI, Perfume, AKB48, Nogizaka46, 9nine, Kyary Pamyu Pamyu, Ayaka, Nishino Kana, miwa, aiko, and Leo Ieiri. ♥ I'm open to more fandoms. Lol. The more the merrier, alright.
Prior to being a JPOP fan I'm a fan of Japanese dramas and films, it started with how in love I am with the Gokusen and the Hana Yori Dango series. At present, I have already watched more than 300 Japanese dramas and films, without any plans on letting anything interfere with my love for them. If anyone's curious (though I highly doubt it hahaha) on what dramas/films I've watched, I have a list here, though it isn't updated. XD My most favorite actors are Matsumoto Jun and Abe Aran who are my ichiban in Arashi and Johnnys Jr. respectively. ♥ I have around 100 more favorite Japanese actors/actresses, btw. Lol.
I read manga and watch anime as well, though I only usually prefer shoujo romance. However, I read manga and watch anime in another genre whenever I feel like it. I'm open to suggestions as well!
Regarding my interest on collecting stuff, I'm currently collecting Japanese CDs and Concert DVDs, concert goodies, Japanese magazines, and Johnnys official shop photos and stage photosets. My collection is still small though!
Here's my list of ichiban for each Johnnys group which I mostly follow:
Yamada Ryosuke (Hey! Say! JUMP)
Imai Tsubasa (Tackey & Tsubasa)
Tegoshi Yuya (NEWS)
Okura Tadayoshi (Kanjani8)
Tamamori Yuta (KiS-MY-FT2)
Shigeoka Daiki (Johnnys WEST)
Katori Shingo/Kusanagi Tsuyoshi (SMAP)
Current favorite Johnnys Jr.:
Abe Aran, Matsukura Kaito, Matsuda Genta, Nakamura Reia, Nishihata Daigo, Shimekake Ryuya, Nakamura Kaito, Ohashi Kazuya, Asada Junya,

Yoshizawa Shizuya, Moritsugu Ryota, Nakada Hiroki, Sakuma Ryuto, Miyachika Kaito, Kawashima Noeru, Kajiyama Asahi, Morita Myuto, Konno Taiki, Takahashi Yuto, Kyomoto Taiga, Matsumura Hokuto, Nagase Ren, Fukazawa Tatsuya, Inoue Mizuki, and Motodaka Katsuki. I can go on listing more because I have around 40 favorites, well there are hundreds of jrs. XD
As of now, I don't have any particular favorite within Johnnys Dance Family (I'm quite new to watching them, as in WATCH) but I admire all of the current members a lot and they are very dear to me as well ❤
I'm the less useful member of a certain subbing team (hint: it's a subbing team for SixTONES). I say I'm the less useful member because the rest of the team work on most of the projects and I just check the English (grammar/sentence construction/punctuation), so yes, I'm almost useless. XD But it's nice to be part of a subbing team, because I can (with my own little way) help the fandom, and also, I can learn more about the juniors from the other team members who have been in the jr. fandom way longer than I've been, I'm so updated with SixTONES because of them. :)
I honestly don't really have many things to offer in my journal but if anyone wants to add me, please feel free to do so. I'll most likely add you back if I see we have the same interests. :)

That's about all for now. If you're still reading until this point, I want to thank you for your time!
Current Mood:
sleepy
Current Music: Setsunasa, Hikikae ni by Hey! Say! JUMP